You've been in your home for a few years, and everything seems to be the same as it was when you first moved in. However, recently, you've noticed a strange odor coming from your crawl space. You've also noticed that when it rains, it takes a substantial amount of time for the water around your foundation to dry. Although you don't know much about foundations, you conclude that something isn't right, and you need someone to check to see if there is a problem with your foundation.
A foundation expert comes out and inspects your home to discover that you have significant issues with your crawl space that need resolving right away. Left unchecked, this moisture problem could lead to wood rot or infestations by pests. This is just one of many scenarios that homeowners face with their foundation. So, how can you resolve issues like this and others without having to dig into the ground below your foundation? After all, what foundation repair techniques are available to you? Let's discover how foundation experts resolve such matters with foundation repair methods. Here are the most common foundation repair methods used that don't require digging into the soil around your home.
Common Types of Foundation Repair Methods Without Digging
When you have foundation problems related to soil erosion, foundation experts will most likely have to dig and use techniques such as helical piers or mudjacking. However, there are a few techniques that don't require digging. Here are some of them.
Crawl Space Encapsulation
If you don't have a basement, your foundation may rest on a crawl space. This area of your house should remain dry at all times. However, if you have problems with your foundation, there may be excessive moisture in this area. This moisture could lead to wood rot and pest infestations that could cause even more damage. Therefore, foundation experts may recommend crawl space encapsulation to fix the issue. In addition, contractors will usually install a vapor barrier in the area to help minimize the moisture. In some cases, they may even have to use a dehumidifier, but this isn't necessary in low-humidity regions. 
Waterproofing
When a contractor builds your home, they may not add waterproofing unless you ask for it. Typically, they will add a simple coating that keeps water out. However, if you want full-scale protection on your new build or even an older home, it is a good idea to have professional waterproofing services done by a foundation expert. This will keep moisture out of your basement, especially if you live in an area of town that floods frequently. Foundation contractors may use paint or special sealants in your basement as waterproofing. 
Wall Repair
Waterproofing your house as soon as possible is critical because if you don't have adequate waterproofing, your basement may experience hydrostatic pressure. The water, gravity, and sediment mix when this happens and push your walls inward because there is no appropriate outlet to prevent this build-up. Installing a working sump pump can help with this issue. However, if you don't have one already, this phenomenon can cause your walls to bow, resulting in needing carbon fiber straps or steel beams to minimize bowing. 
Cosmetic Cracks
In some cases, you may have some cracks that need fixing in your foundation. Foundation contractors won't need to use complex digging methods to repair these cracks if they are cosmetic. However, if they inspect the cracks and discover that they aren't structural, they can fill these cracks with epoxy to help minimize their presence. This is also true for slab foundations which warrant crack repair as a on of the slab foundation repair methods.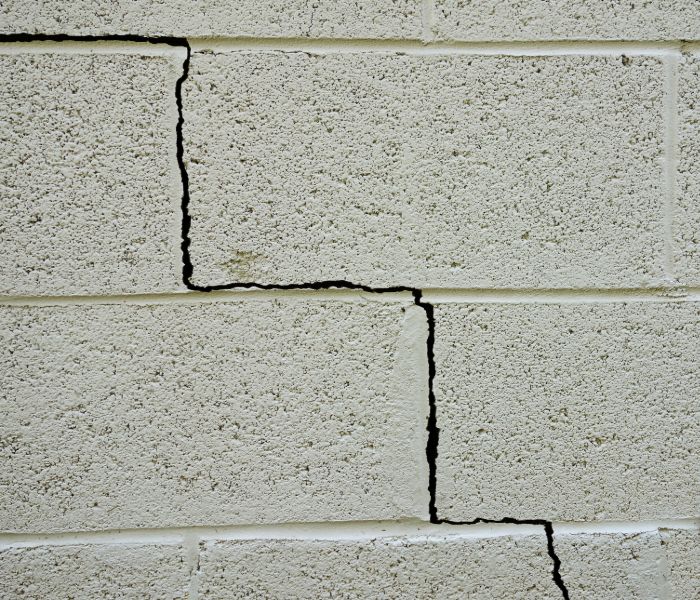 How Do You Know You Have Foundation Problems? 
From the example above, this homeowner noticed something wasn't right because she smelled a musty odor and saw pools of water forming in the crawl space. However, these aren't the only ways to discover that you have foundation problems. Another way to know that you have foundation problems is water pooling in your basement. You may also see what looks like "sweat" on your basement walls. This condensation on your walls could build up over time, and even though it is not a rush of water that you would see when your basement is flooding, it could still cause problems. Sweaty basement walls can lead to wood rot, mildew or mold, and even pest infestations, including mice and termites. So, not only will you have a foundation problem on your hand, but you could also end up with a costly pest problem or mold problem that will need remediation. 
Aside from moisture issues, you may find that you have foundation problems by seemingly unrelated things going wrong in your home. For instance, you may experience windows or doors that won't close or open properly. Or you could even notice that your kitchen or bathroom cabinets are leaning and won't shut completely. This could mean that your floors are unlevel, causing stress on other parts of the house. 
One more obvious foundation problem could be uneven floors. This may not be as apparent until you experience vertigo while walking across the floor. Or it could be evident if you take out a marble or coin and either roll down the floor, indicating that it is leaning. 
What Happens If You Don't Fix a Sinking Foundation? 
When it comes to sinking foundations, this is not the time to decide "if it ain't broke, don't fix it." In fact, your foundation is "broke," and it's just a matter of time before the foundation of your home starts to take a toll on other parts of your home. It could even result in the total collapse of your foundation, which could be pretty pricey to fix. Not only will you have to pay for damages to the foundation, but other parts of your home may be affected by the collapse, including interior walls and the roof. It won't get this bad in most cases because you will start to notice issues leading up to a potential collapse that should encourage you to call out the experts. As a matter of fact, if you are avid about the upkeep of your home, you probably have already established regular inspections with various types of home improvement experts to avoid significant problems in the first place. Including regular inspections by foundation experts is a good idea. They can keep minor problems from turning into issues that could cost tens of thousands of dollars. 
If you think you may need a foundation repair in Indiana, it's a good idea to start by choosing a reputable foundation company. Bloomington Foundation Repair and Waterproofing is one of the most trusted foundation repair companies serving Bloomington and the surrounding areas of Ellettsville, Martinsville, Nashville, Bedford, and Spencer. For over 20 years, we have put our customers back on solid ground with outstanding methods of foundation repair, including crawlspace encapsulation, waterproofing, mudjacking, slab jacking, helical piers, and more. Contact us today to schedule your inspection and get a FREE quote on our foundation repair in Bloomington. Ask about our alternative foundation repair methods!