Foundation repair is not always detectable by homeowners. Unless something is apparently wrong with your foundation, such as cracks that keep widening or water forming around it, you probably won't know that something is wrong with it. When it comes to foundation repair, it is a good idea to establish a relationship with a slab foundation repair company you can trust who can assess your foundation periodically and address minor issues before they become big ones.
However, keep reading if you want to know a few obvious signs that you need slab foundation repair in Bloomington IN. 
What is a Slab Foundation?
Before you can even address problems with your slab foundation, you may need to know more about what it is in the first place. According to Investopedia, "slab foundation is made of concrete typically four to six inches thick in the center. They don't have a crawl space or space under the floor." Therefore, when your home is built on a slab, some problems with it may not be as apparent as problems you may notice in a basement or a crawl space, such as flooding or strange odors. This makes it even more critical for you to have a contractor come out to check for problems regularly. 
Signs You Need Slab Foundation Repair in Bloomington
Getting slab foundation repair Bloomington, IN is similar to most foundation repairs. Here are seven of the most common reasons you will need such maintenance. 
A Poor Design
Believe it or not, some slab foundation problems may start when the builder pours the concrete. Sometimes they may add too much water to the concrete mix, making the slab too thin and unable to support the weight of the house. The design also may not be adequate. The builders may not have taken the engineer's advice and built the foundation based on their recommendations. Thus, the soil and the foundation type the builder installs may not be a good choice for your home. 
You May Smell Musty Odors
As with basements and crawl spaces, one way you may know that something is wrong with your slab is that you smell strange odors in your home. The most common odor is mildew, which is a musty, damp smell. If you smell such an odor, this could indicate a moisture problem brewing between the slab and your home.
Cracks in the Foundation
Seeing cracks in the foundation will be one of the most obvious signs. Typically, the cracks you may see are hairlines. These usually aren't structural, and for the sake of aesthetics, a contractor may fill these in with epoxy to hide the cracks. However, if they are structural, they will have to perform much more rigorous foundation repairs. 
Foundation Isn't Level
Another common sign is that the foundation is either lifting upwards or sinking. You may notice that the foundation isn't level when you walk across it and experience vertigo. Or, you could use a level and see if the foundation is uneven. 
Doors and Windows Not Working Properly 
As with basement and crawl space foundation problems, you may also experience problems with windows and doors if there is a problem with your slab foundation. Typically, opening and closing doors will be pretty tricky. 
Crown Molding and Baseboard Separation 
If you are experiencing slab foundation problems in Bloomington, you may have problems with your crown molding. Typically, crown molding should fit perfectly to your ceiling if it was installed correctly. However, if there is a gap, this could indicate problems with your foundation. You may also notice such a gap between the floor and the baseboard.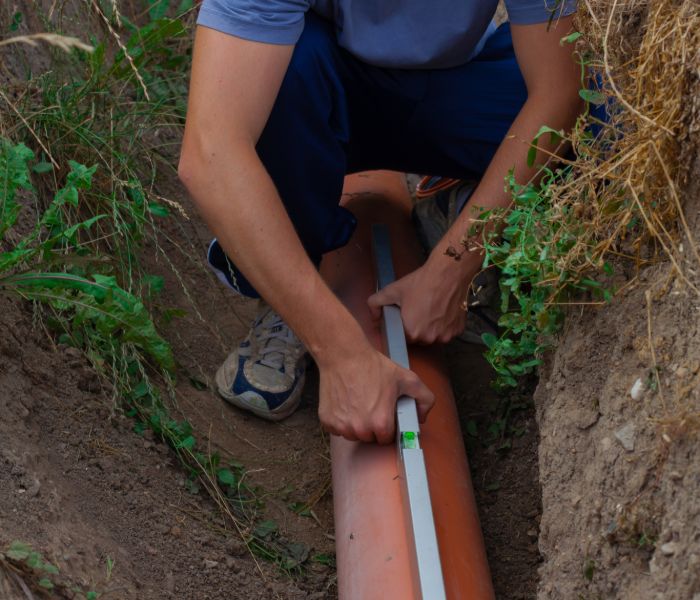 Plumbing Problems Below It May be Damaging It
If you have plumbing located directly under your concrete slab, something may be wrong with it that may be causing issues with the foundation. Perhaps the pipes have burst or are leaking, creating cracks or leaving stains on your slab. Leaks will probably be most noticeable in your garage area. This type of foundation repair could become a pricey repair because a contractor will have to remove the existing slab. Then, a plumber will need to locate the leak and fix it. Once the leak is finished, the contractor will pour the concrete slab again. 
Call an Expert Slab Foundation Repair Company!
Do you suspect that you are having trouble with the slab foundation of your house and need someone to inspect it for repairs? Look no further than the experts at Bloomington Foundation Repair and Waterproofing, the most-trusted name in foundation repair in Indiana. We provide foundation repair services for homes with basements, crawl spaces, and slab foundations. We also ensure that your home remains moisture-free with our top-notch waterproofing service. Contact us today for your FREE quote on your slab foundation repair in Bloomington, IN.